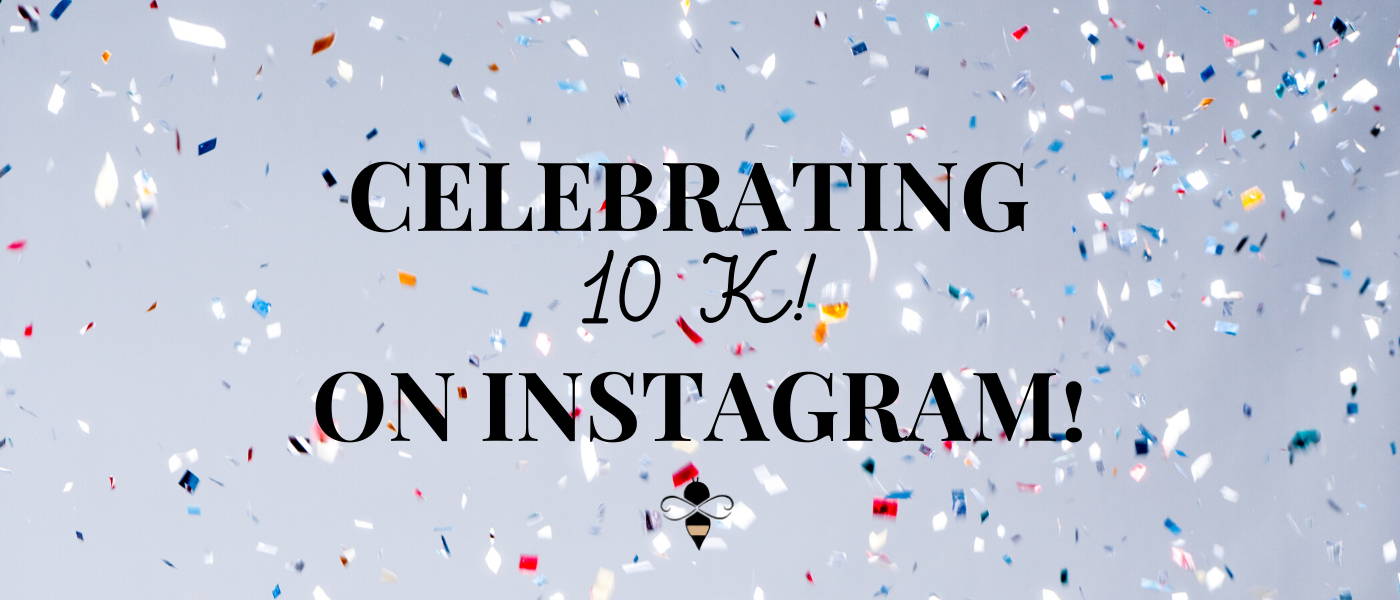 ---
To Celebrate 10K Followers on Instagram, We Are Sharing 10 Terrific Facts About Nature Bee!

---
1. Nature Bee was created by Katie Gamble during her final year in the Gustavson School of Business. She has faced many challenges being a young female entrepreneur but has also experienced so many achievements that continue to push her forward. She has dedicated herself to Nature Bee, and with the support of family and friends she is able to keep working hard to experience more and more achievements on her horizon. The other Nature Bee employees also happen to be female as well! Norah and Paige work hard on the production line, hand folding, cutting and packaging all the wraps. Behind the scenes is our incredible photographer Danielle ( Katie's sister) and Videographer Megan. As well our marketing manager Garron, accountant Clemmie, machinist Jack and others. The support Katie receives from her family is just the best- we all work together to bring you the most beautiful beeswax wraps. Our current co-op student Natasha is also a part of our amazing team. We are small but mighty!!
---
2. We are SO thankful for our growth! It has allowed us to move out of Katie's parent's basement and into a commercial facility. We have only been in our new facility since January 2020 and have been loving how much it has allowed us to expand. Thanks to the continued support of our community and customers, we have been able to reach this exciting point.
---
3. From the beginning, we have proudly been producing our products in Canada. We love being Canadian, and love the beautiful country we get to live in. Our beeswax comes from a local honeybee farm nearby our production facility. We always try our best to source our materials from Canadian suppliers as well!. When you are able to buy our wraps, you are not only supporting a local business, but other Canadian companies as well!!
---
4. Katie started Nature Bee as a final project at the end of her Bachelor of Commerce at the University of Victoria where it quickly turned into something much more. Katie was overwhelmed by the year-over-year production of wasteful single-use plastics and wanted to take a stand. This is how Nature Bee was born! She has been working hard on her company since then. She even continues to support UVic students by hiring them as co-op students, speaking to classes at Gustavson and providing resources to other entrepreneurs starting their journey.
---
5. We love all the charity campaigns we have done in the past, most recently being with the Mustard Seed. We also strive to continually help out our community, and that's why 10% of certain wrap sales will be donated to different sustainability initiatives each month. We will continue to always have a charity aspect to Nature Bee. We love being supported but most importantly we love to give back and help others out.
---
6. Did you know that plastic wrap was created by accident in a lab in the 1930's? It was used by the US Military on their boots for a short time, and now today it has changed the way we buy, package, and consume food. Plastic wrap is in nearly every single grocery store and in many homes. Commercial and shipping uses of plastic wrap in the US in 2019 accounted for 3 million tonnes of plastic wrap, leading to the global plastic pollution problem. Some food wrap companies claim to have been able to eliminate more than 100 million square feet of plastic wrap in the past two years! By using beeswax wraps regularly in your home, you are able to reduce hundreds of square feet worth of plastic wrap each year!
---
7. Bright, fun and cheerful. We always have a rotating collection of patterns, which allows us to source fresh, new patterns for our wraps. We like to have a little bit of something for everyone and everyone's different styles.
---
8. When we receive shipments for our own supplies, we ensure that every part of that package is properly recycled and repurposed. Only a small fraction of waste is produced in our facility. We are continually thinking of ways we can re-use our 'waste' and then making sure it is properly recycled. We are committed to sustainability inside and out, so you can feel good supporting an environmentally friendly company that isn't 'green-washing' their product for a profit. We are mindful in all that we do, and we continue to learn and do better as we grow.
---
9. On a similar note of being conscious of our 'waste', we are proud to donate our scrap fabric to local creatives so they can use it in their projects! We love seeing what they make out of our fabric, and we love seeing it go to more good use. Recently, our fabric scraps have been used to make masks, which have gone on to be donated in the community. We will also have new and exciting scrunchies being made soon!
---
10. Nature Bee does not only create classic patterned wraps but we do customized wraps for businesses and others. We have had the opportunity to create wraps for companies like LUSH cosmetics, Coast Capital Savings, Boxed Water, Silver Chef, Gum Gum and so many others. We LOVE creating branded wraps as it is such a unique and sustainable way to share your brand with your company!
---
---