It's the most wonderful time of the year, and what better way to celebrate than through gifting! Whether you are on the hunt for someone's perfect present, or maybe looking to add to a wishlist of your own - we've got you covered!
But wait - We have a surprise that makes it even more magical! Alongside this curated gift guide, one lucky winner will have the chance to receive one of everything featured in the guide! Read more to find out how you can enter to win!
Om Organics Pure Glow:
Holiday Mini Face Set
Check out this perfect holiday gift set: An indulgent collection for replenished winter skin! This complete face care routine includes a cleansing balm, hydrating face mist, nourishing face cream and a rich eye cream - boxed so beautifully you can skip the wrapping paper.
Why we love them: Om creates clean, plant-based skincare that is safe for sensitive skin, and doesn't break the bank! They skip out on all the bad stuff like fillers, parabens and sulphates, and are cruelty free, vegan and gluten free!
*Om is adding in a $50 gift card in addition to their Holiday Mini Face Set to send to our lucky gift guide giveaway winner!
Bynumide Carafe and Glassware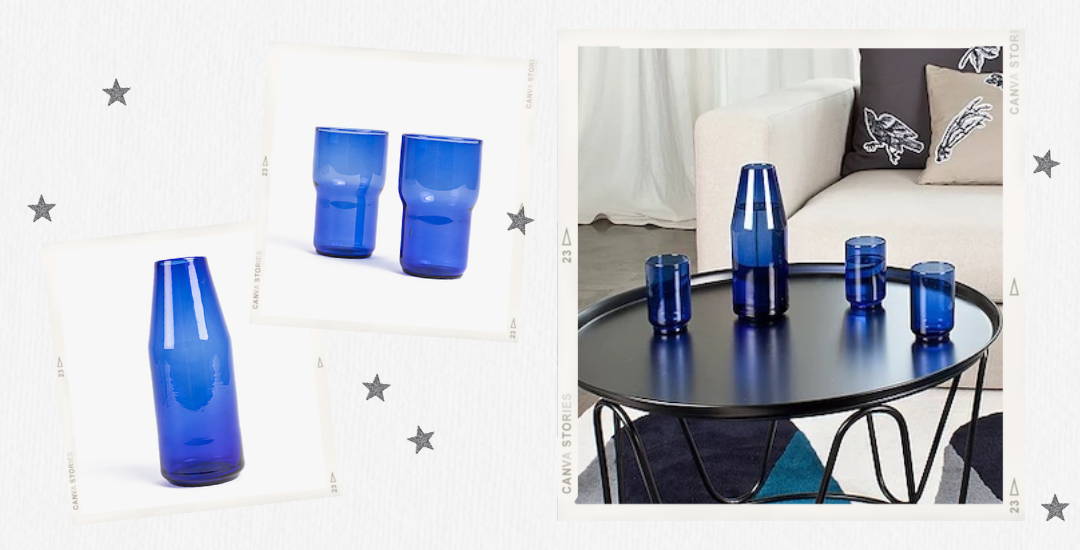 These handmade, glass blown drinkware pieces from Bynumide are such an elegant gift! Each piece is handcrafted by skilled artisans using traditional techniques that respect ancestral glass blowing processes.
Why we love them: Bynumide offers unique lifestyle and home decor products with heritage and history. They are a woman-owned business that cares about sustainability, fair trade, and traditionally handcrafted products.  
Wild Coast Perfumery
Tribune Bay eau de Perfume
Wild Coast Perfumery's Tribune Bay is like an escape to your favourite island vacation. Warm Vanilla, Red Mandarin, Fruity and Coconutty, Warm Ambrette Seed Musk and soft Cottonwood tangle together to make your tropical dreams come true. Careful, you'll smell delicious!
Why we love them: All of Wild Coast perfumes are completely natural, handmade and bottled on Vancouver Island. They are free from synthetics, petrochemicals, artificial fragrance oils, dyes, parabens, phthalates or chemicals, and smell absolutely delicious!
Nature Bee Ultimate Eco Starter Bundle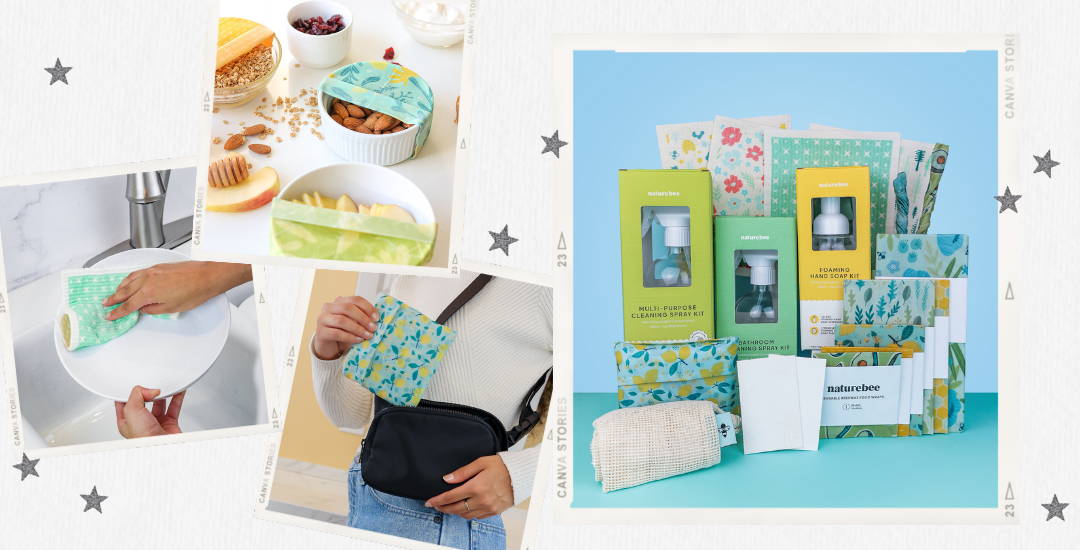 This Ultimate Eco Starter Bundle has all of our favourite eco essentials! This massive bundle is perfect for splitting up into smaller gifts, or giving as one huge eco present! The bundle includes a Lemon pocket tote bag, 4 swedish dishcloths, 2 pop up cellulose sponges, 6 beeswax wraps (1 jumbo, 2 Large, 1 Medium, 2 smalls), a produce bag, Lemon foaming hand soap kit, Bergamot Lime Multi-purpose Spray kit, Bathroom cleaning kit, and 2 fire starters.
Why we love them: Well, we may be biassed - but we love Nature Bee because we are dedicated to making more sustainable alternatives to home kitchen and cleaning products. We provide a wide range of innovative eco conscious products with bright colourful, thoughtful design!
Lit Soy Candles Rainforest Diffuser
Blend and Golden Hour Candle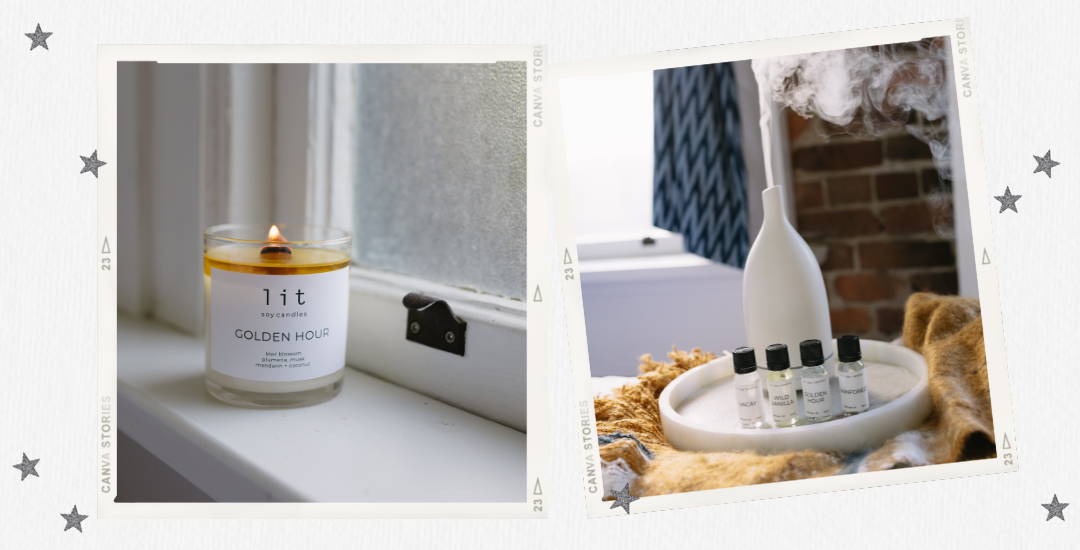 Chelsea King Hair Accessories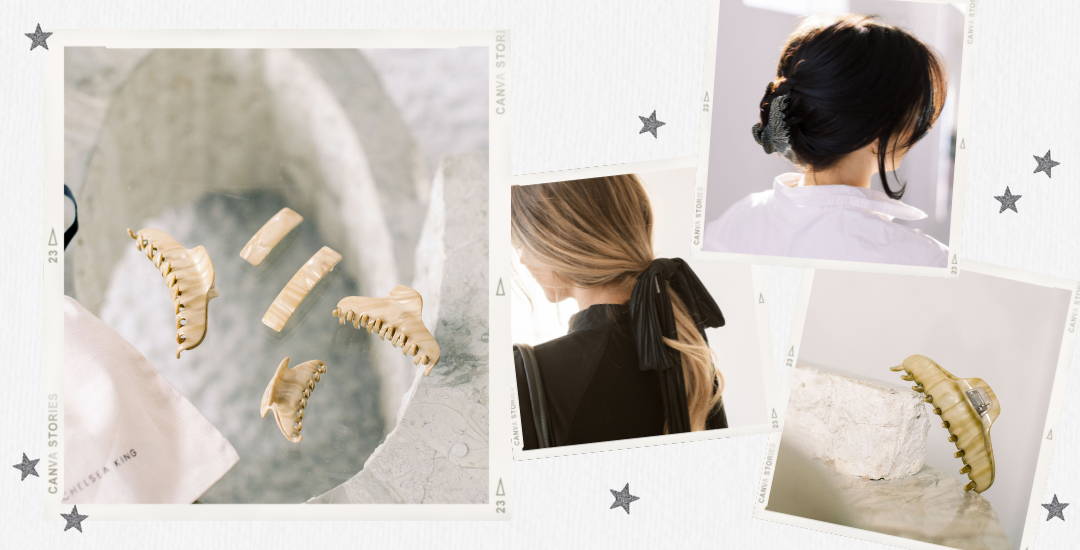 Chelsea King hair accessories are the perfect gift this holiday season! From scrunchies to claw clips, headbands to hair scarves, Chelsea King has the cutest ethically crafted hair accessories ever.  
Why we love them: Chelsea King puts care, respect, and humanity into every accessory they make! Their hair accessories are all ethically manufactured, and they put emphasis on a slow, hands-on production process.
* Since everybody's hair is different - we want you to pick the perfect accessory for you! Chelsea King is giving the gift guide giveaway winner a $75 gift card to their online store.
Enter to win the Gift Guide Giveaway!
One lucky winner has the chance to receive one of everything featured in this gift guide!
How to Enter:
Follow @naturebeegoods, @om.organics.skincare, @bynumide, @wildcoastperfumery, @litsoycandles and @shopchelseaking on Instagram.

Like our giveaway instagram post, and tag a friend you think would like to receive something from the gift guide (each comment is a separate entry).

Enter your email on our Gift Guide Giveaway landing page: https://manage.kmail-lists.com/subscriptions/subscribe?a=P7BsNh&g=YfkwtD
The contest closes Sunday, November 19th at 11:59 pm PST. This giveaway is not in any way affiliated with Instagram. Good Luck!!
The winner of the Gift Guide Giveaway will receive: 
An Ultimate Nature Bee bundle Valued at $200
Om Organics Pure Glow: Holiday Mini Face Set Valued at $68 and a $50 gift card
Bynumide Carafe and Glassware Valued at $104
Wild Coast Perfumery Tribune Bay eau de Parfum Valued at $98
One Golden Hour Soy Candle and one Rainforest Diffuser Oil from Lit Soy Candles Valued at $52
Gift card to Chelsea King valued at $75