Hi hello,
Please welcome our guest blogger for this week! Her name is Claudia and she has developed a vegan friendly BLT for you to enjoy. You DO NOT have to be vegan to love this recipe!
Claudia is a Registered Dietitian and recipe developer. She believes in an all foods fit approach to eating and loves to inspire others to cook! You'll find her in the kitchen, aka her office, or exploring our beautiful island with her rescue pup, Ollie!
---
Here is her recipe for the perfect on-the-go lunch. Classic BLT flavours we all know and love, veganized!
1 tsp each garlic powder, paprika, and onion powder

1/2 tsp each ground turmeric and black pepper

1/4 cup each maple syrup and soy sauce

1 block smoked tofu, thinly sliced

4 slices wholegrain bread, toasted

Vegan mayo, to taste

1 heirloom tomato, sliced

Lettuce leaves
In a shallow dish or large bowl, whisk together garlic powder, paprika, onion powder, turmeric, and pepper. Stir in maple syrup and soy sauce.

Add tofu; marinate at least 30 min.

Preheat oven to 400 F. Place tofu in a single layer on a lined sheet pan. Bake 30-35 min, flipping and brushing with more sauce every 10 min. Tofu should have crisped up and darkened. Remove from oven; let cool in pan, 10 min.

To assemble, spread mayo on bread. Sandwich tomato slices, tofu, and lettuce between two slices of bread. Enjoy!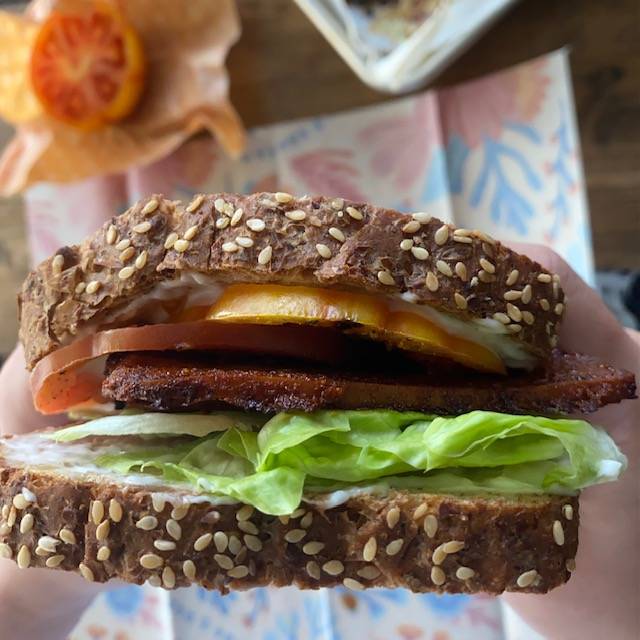 We hope you enjoy this recipe and if you try it out, be sure to take a picture and tag us on Instagram @NatureBeeWraps & @_claudiawong